International
The person Benazir Bhutto named as her killer; A story by Hamid Mir.
She looked away, put on her glasses, and said the words that still haunt me. "Let me tell you today, very clearly, that they have already decided to kill me and they will kill me soon. After they do, they will blame the Taliban or the al Qaeda. But you must name Musharraf as my assassin."
A Story by Hamid Mir:
This story was published on 27 December 2017(10th anniversary of Shaheed Mohtarma Benazir Bhutto).
Today this story was tweeted by  Bakhtawar Bhutto Zardari(Benazir's daughter) on her twitter account.
Where should I start? What should I write on the 10th anniversary of Shaheed Mohtarma Benazir Bhutto? There is a lot to share, a lot to say. It is not easy for me to write about her. For me, she was not just a politician, she was a source of inspiration, a mentor and at times a teacher. Whenever I think about her I feel as if I have lost an elder sister.
I was 24 years old in 1990. One day, after reading an article I wrote in the Daily Jang, she invited me for a meeting, where she suggested that I write a book. I told her I was far too young to be authoring a book. She insisted, "No, you can write a book." I wrote my first book the same year.
Fast forward to a few days before her assassination in 2007. She confided in me about who she suspected would want her killed. "You must expose my killers after my murder," she said. Her enemies wanted her to leave Pakistan. But she refused to take dictation from the dictator Pervez Musharraf. No matter what, she would not run away. Even when she was aware that her presence was a threat to her life. Benazir Bhutto chose to embrace martyrdom on her own soil than flee. She sacrificed her life by not surrendering to the forces of evil.
I have never met such a brave woman.
Interestingly, she once told me that she had wanted to be a journalist. In 1976, she hosted a talk show on the Pakistan Television that was named, The Encounter. But then unusual circumstances forced her to join the political resistance against the martial law of General Zia ul Haq the following year.
I took great pride when she would say that "Hamid Mir is my favourite journalist." Although, initially I thought that she was only encouraging me because she knew my father. But then one day the late Salman Taseer, who was the secretary information of the Pakistan People's Party in those days, asked her in my presence about it. "Why is he your favourite journalist?" he inquired. "Well, because he supports and praises me without any interest and criticises me without any fear," she replied.
We had disagreements too, often. On every such occasion she would aggressively state her point of view but also listened to my counter argument with patience. At times I agreed with her, but many times I didn't. Regardless, she forgot and forgave my badtameezi like an elder sister would.
I also want to take this opportunity to talk about some of the letters she wrote to me. I have never mentioned these letters before.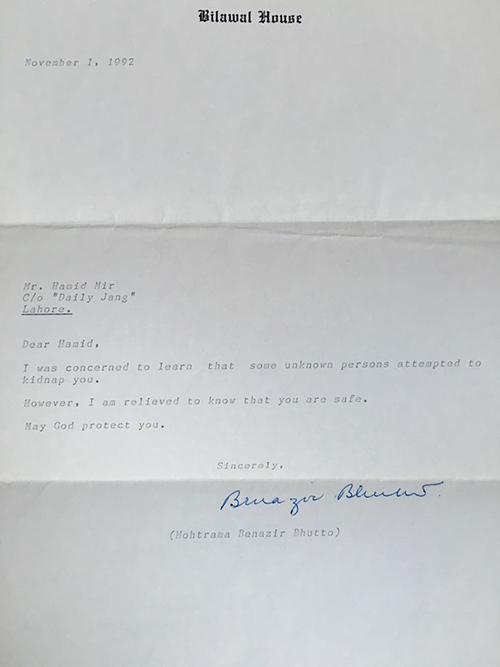 In 1992, some unknown people tried to abduct me while I was in Lahore. Bhutto read about the kidnapping attempt in a newspaper and quickly sent me a letter of concern. "May God protect you," she wrote. Then in 1994, I lost my job after I wrote an article about a submarine scandal. The article mentioned the purchase of a submarine for the Pakistan Navy. Some officials wanted to buy it from France, while others insisted on getting it from China. I criticised the activities of businessmen who were close to Asif Ali Zardari. They had attempted to manipulate the submarine deal.
The day my article was printed, I was told to pack up. In those days, Benazir Bhutto was the prime minister. Opposition parties held Zardari responsible for my sacking. On hearing this, Bibi called me to the prime minister house. She offered me an important office in the government. I refused. On hearing this, she began clapping. "Well done young man. That is why you are my favourite journalist," she added with a smile.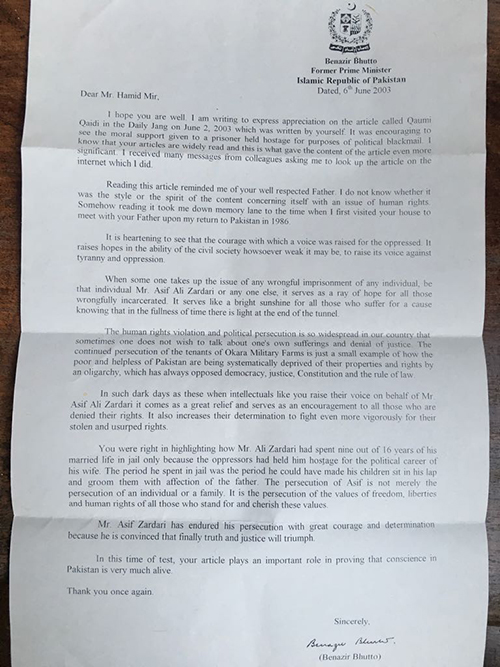 She wrote another letter to me after many years. This is when she was in exile. I had recently written in the Daily Jang a column about the 2003 imprisonment of Asif Ali Zardari. Musharraf was then in power and Zardari was embroiled in many cases in various courts. Very few people were raising a voice for Benazir Bhutto's husband. It was then that Bhutto wrote another letter to me. In it she reminded me of her first visit to our house in 1986 when she had come to see my father, Professor Waris Mir.
There was also this memorable phone call in 2004. Musharraf's regime was trying to overplay the military operations in the tribal areas. He claimed that his forces had surrounded a high value target in South Waziristan. I contradicted that claim in interviews to the CNN and Fox News. That is when my phone rang. Benazir sahiba was calling from Dubai. "What do you think of yourself?" she said angrily. "There is a difference between bravery and madness. Don't confront a military dictator and that too on the international media. Your family needs you. Leave this to me. I will expose his double games."
As for my last meeting with her, it was a few days before Dec. 27, 2007. She had invited me for breakfast at her residence in Islamabad. The breakfast table was laid out in the garage. I instantly knew why that was. I had known her since 1987. The arrangement was made to avoid our conversations from being bugged. There was a smile on her face, but her eyes were sad. Two months back, she had survived a targeted suicide attack in Karachi.
First she asked about my family and then said, "I must confess, you were right about my conversation with Musharraf. It was just a trap. Musharraf only wanted to use me to prolong his power. He was not serious about restoring democracy in Pakistan. The dialogue between us is now over."
She paused, ordered orange juice for me and honey and lemon tea for herself. She munched on some walnuts, offered some to me, and then continued. "I'm trying to reduce weight these days, knowing that I may not live a very long life." I immediately responded, "May God give you a long life." And then, strangely enough, she began to talk about my security, not hers. She recalled my first kidnapping in 1990 when she was the prime minister. (I had filed a story stating that President Ghulam Ishaq Khan was planning to dismiss her).
This time she wanted to give me some security tips. Never discuss your travel plans on the phone, was one. Don't go to public places alone, was another. I couldn't help but laugh. "You need to be more careful than me. You just survived an assassination attempt," I told her. She looked away, put on her glasses, and said the words that still haunt me. "Let me tell you today, very clearly, that they have already decided to kill me and they will kill me soon. After they do, they will blame the Taliban or the al Qaeda. But you must name Musharraf as my assassin."
I was stunned. I asked her why would 'they' want to kill her. Musharraf did not want her to return before the elections. "I did not listen to him. So he threatened me on the phone and said your security is based on the state of your relationship with me. Two foreign governments have advised me not to return to Pakistan as I could be killed." She paused again and finally said: "If I am killed, please name Musharraf as my assassin."
By now I was completely shattered. I told her that Musharraf had banned me from appearing on TV, but that I would definitely write what she had told me. Please be careful, I told her sincerely, don't give people another chance to attack you. At this she got very angry. "They want me to go back [to the West] but I will not leave. This is my country. I will die here."
She was sure that her days were numbered, which is why she never allowed her husband and children to come back to Pakistan. They were living in Dubai at the time. Her husband, Zardari, was regularly in touch with me through the phone. He was also concerned about his wife's security. Zardari once told me that he tried his best to stop her from returning to Pakistan and even begged her by grabbing her feet. But she never listened. She told him, "I looked after the children in Dubai for many years when you were in jail, now it's your turn."
Certainly, Bhutto had also done her homework before returning. She wrote to Mark Siegel, her trusted friend in the United States, and told him that Musharraf would be her assassin. Siegel was told to share the letter with the BBC or CNN in case of another attack on her life. Which he did later with Wolf Blitzer of the CNN on December 27, 2007. Within a few minutes of her assassination, CNN informed the world that Benazir Bhutto had named Musharraf as her assassin.
Musharraf's government, meanwhile, blamed militant leader Baitullah Mehsud as the mastermind. Mehsud denied it. In fact, the terrorist had sent a message to Benazir Bhutto through Saleh Shah, a senator from South Waziristan, to deny any plans to attack her.
After Bhutto died, the government claimed to have arrested some men who facilitated the suicide bomber in Rawalpindi. But, in reality, these men were already in the custody of security agencies before the attack. The crime scene was also washed immediately after the attack on the orders of two police officers, who were directed by a close subordinate of Musharraf. They never disclosed his name and later faced harsh imprisonment.
I fulfilled my promise too. I wrote about our last conversation after her assassination. When the ban was lifted, I returned to Geo Television in 2008 and made an investigative documentary about the assassination. In it, I highlighted Musharraf as the main accused. Unfortunately, the Pakistan People's Party government did not seem serious to pursue the murder investigation until August 2008, when Musharraf was forced to resign.
Musharraf, the man Bibi named as her would-be assassin, was sent out with a guard of honour. Mehsud was later killed in a US drone attack.
I was also the only journalist to be approached by the UN Inquiry Commission in 2010 to record my statement. The commission accused Musharraf of failing to provide adequate protection to Bhutto. It pointed a finger towards the former Director General Military Intelligence, Nadeem Ejaz, who had ordered the police to wash the crime scene immediately. Musharraf was included as a suspect in that case in 2010 and was declared an absconder in 2011. Yet, he returned to Pakistan in March 2013 to participate in the elections. Musharraf appeared in court in the Benazir murder case only once in April 2013 after which the court gave him four days physical remand. But shortly after, the main prosecutor, Chaudhry Zulfiqar, was mysteriously killed in Islamabad in May 2013. Musharraf then got bail.
Musharraf was allowed to leave Pakistan again in 2016 by the Nawaz Sharif government and the PPP remained silent. The anti-terrorism court summoned Musharraf many times to appear but he never did. After more than 300 hearings in 10 years, the ATC released five suspects who were arrested by the Musharraf government.
Four governments and eight judges have been changed in the last 10 years, but the truth is that the main accused, Musharraf, was declared a proclaimed offender and not convicted because, under Pakistan's law, a person cannot be convicted in absentia.
While, two police officials Saud Aziz and Khurram Shehzad have been each awarded 17 years jail because they were declared the main accused along with Musharraf by a Joint Investigation Team headed by Wajid Zia. The same Wajid Zia headed the JIT in the Panama case and wrote a report against Nawaz Sharif. According to the verdict of the anti-terror court, an option was given to Musharraf to record his statement through video link or Skype but he did not show any response. Due to his 'deliberate absence' from court, he was declared a proclaimed offender.
But these days, the courts in Pakistan seem to be more interested in issuing arrest warrants for politicians. No one is concerned about Musharraf. Benazir Bhutto's own party does not seem interested in pursuing the case. The same party that uses her name to garner votes.
People usually ask me why I create such noise about Musharraf. I tell them that I fear facing Bibi in the hereafter. What if she asks me why, even after she told me about her assassin, I did nothing? When she was alive, I always had a counter argument for her. But if she were to ever ask me this, I would not know what to say.
Mir started his career as a journalist from the Daily Jang Lahore in 1987. He hosts Capital Talk on Geo News. He tweets at @HamidMirPAK